Vine Camp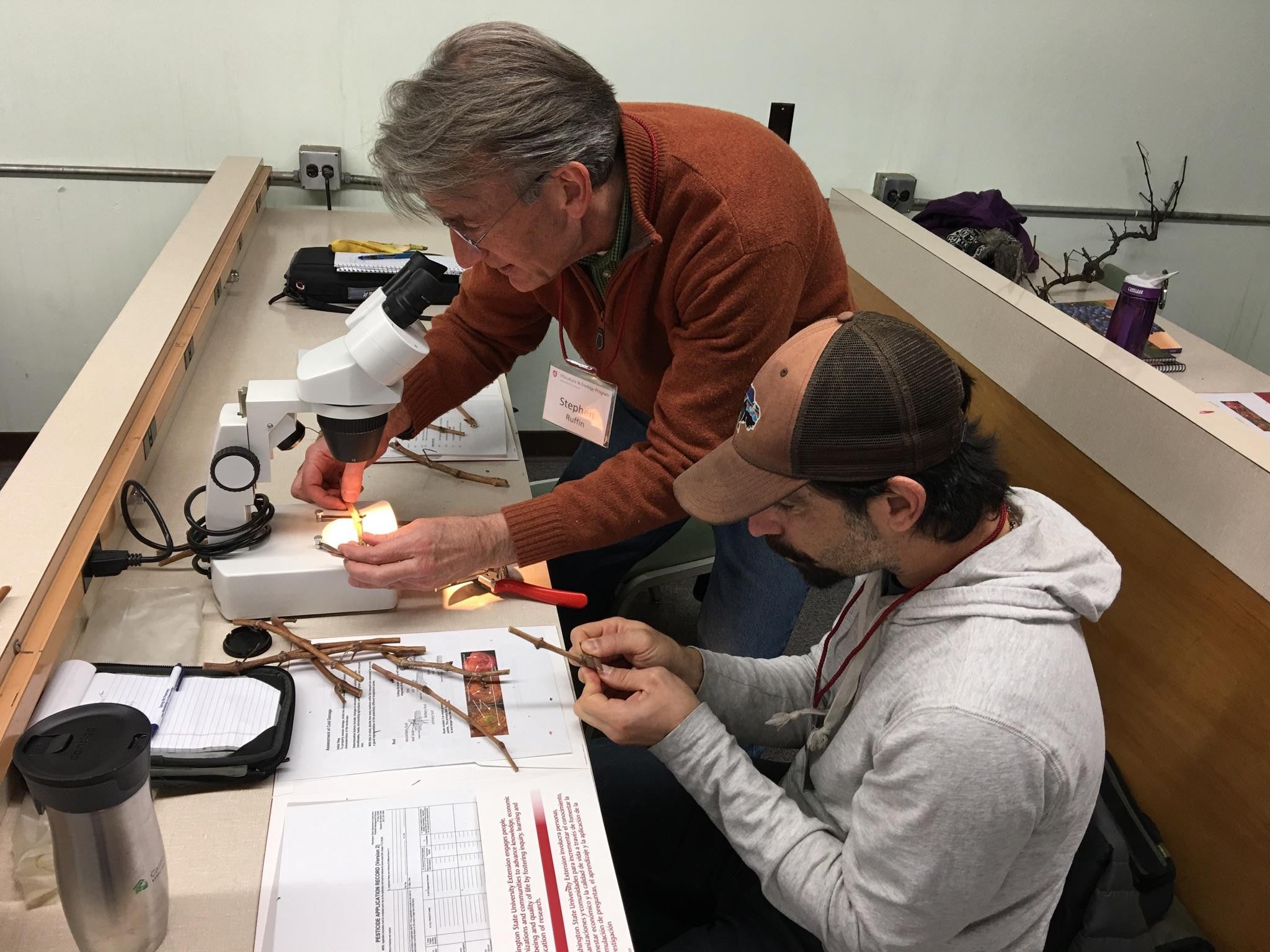 I just returned from Vine Camp in Prosser, Washington.    For those of you that don't know, I am currently enrolled in the Viticulture Program (growing grapes) at Washington State University.  The program is 18 months long with three "camps" required.  The camps are two days of study where students fly in from all over the country-actually one woman flies in from the Netherlands.  This latest camp discussed various diseases to be found in vineyards, with specific emphasis on Powdery Mildew and Botrytis Bunch Rot; both or which can wreak havoc on a vineyard. 
Powdery Mildew is a fungal disease that affects the grapevine. The mildew attaches itself on leaves of the grapevines, seriously hindering the photosynthesis of the plant and therefore reducing yield.  Botyrtis Bunch Rot infects the berries of the plant, sucking the moisture out of the grape and if left unattended, will destroy the entire bunch, vine and eventually large portions of a vineyard.  Botrytis is a fungus on grapes when wet moist conditions prevail.  Viticulturists will fight against this by opening up the canopy (removing leaves) to get better air circulation within the canopy.  They will also add a host of fungicides to fight its spread.
Now, my class is on Viticulture, so the focus is on fighting diseases of the plant; but, Botrytis isn't always a bad thing.  As an Oenologist and a Sommelier, I know that Botrytis also has its good side.  If you have ever had a Sauternes you will understand how Botrytis, when kept in check, is a good thing, though my professors at camp would never agree.
When Botrytis infects a grape, it sends finger like tentacles inside the grape to drink up the moisture inside.  This reduces the water in the grape and concentrates the juice.  Even better, it also imparts a honey like flavor inside the grape that is delicious.
When you are actually encouraging Botrytis, the trick for the growers is to find the balance between perfect infestation of the fungus and horrible blight.  You see, Botrytis is only a good thing when you want it.  If you are trying to make a dry Chardonnay or Cabernet Sauvignon for example, you want zero.  The French however, specifically in their Semillons in the southern portions of Bordeaux want it.
Washington State is the second largest wine producer in the US.  They are growing by leaps and bounds.  Our class trip included a visit to Inland Desert Nursery, a family owned nursery that supplies the cleanest and healthiest grapevines available to growers across North America. Inland Desert Nursery works closely with Washington State virologists, and are leading proponents of certified clean and disease-free grapevines. This effort is key to building profitable, sustainable vineyards.
I would be lying if I didn't say that each day's agenda didn't end with drinking Washington wines. All for the sake of study.
Stephen
Leave a comment
Comments will be approved before showing up.