Springtime for Unionville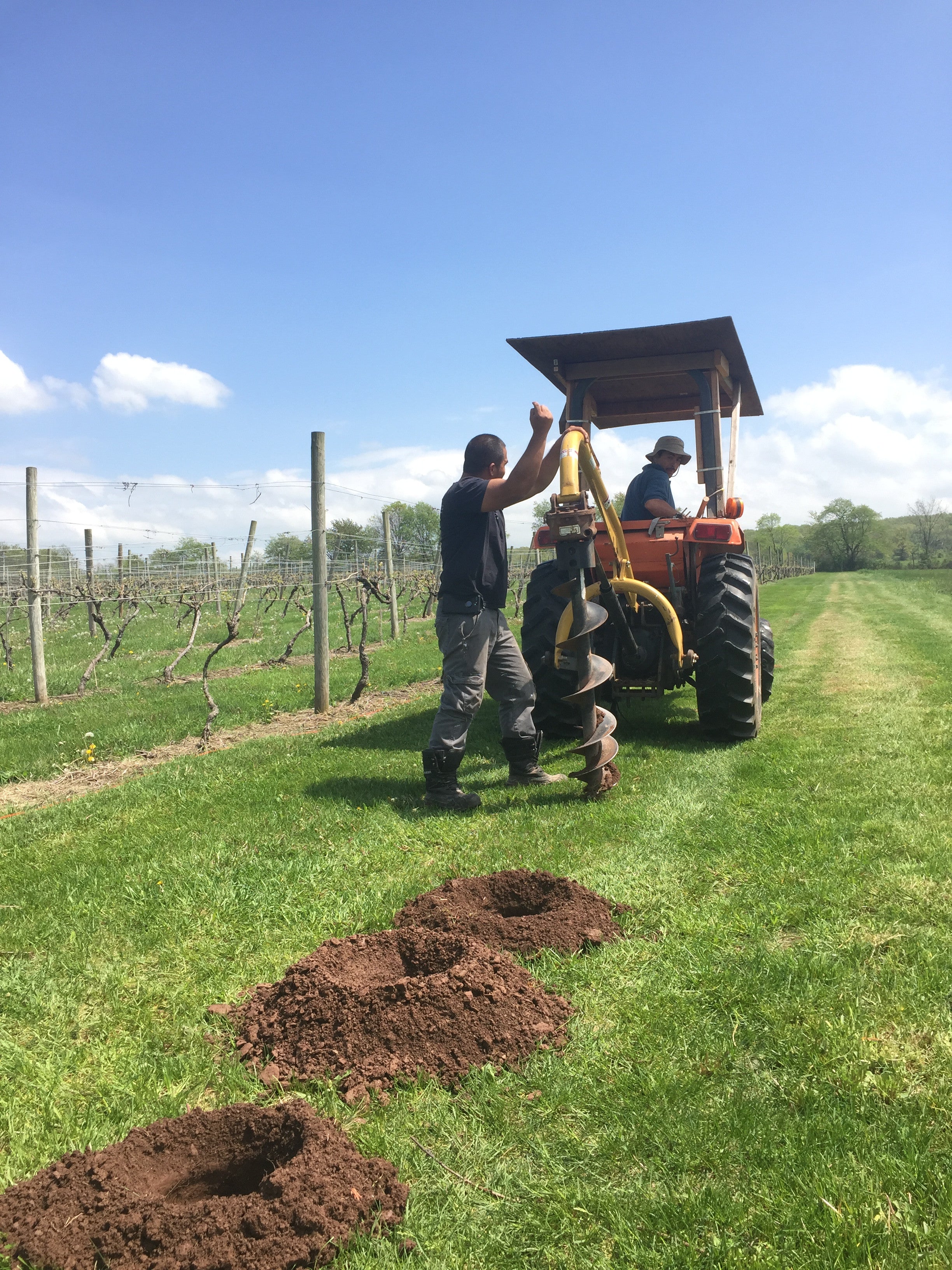 'Newness' has been the theme of Unionville for the past year or so, and this Spring is certainly no different. With days getting consistently warmer and sunnier, the grapevines are waking up from their long Winter's nap in full force and with the emergence of new leaves and shoots comes a slew of growth and expansion for the winery.
The extremely harsh Winters of 2013 and 2014 were hard on Central New Jersey, and subsequently hard on some of our most sensitive grape varieties. We've lost almost 3000 vines over the past five or so years, so this Spring we took it upon ourselves to get our vineyards back up to snuff. Over the next three weeks, Alvaro, the vineyard crew, and I will be facilitating a massive replant of all four of our vineyard sites, filling in all missing spaces with brand new baby grapevines. By restoring the vineyards to full capacity, we are not only ensuring cost effective vine management and balanced canopy and root growth, but also larger crop loads to turn into yummy wine for all of you!
However, just filling in our vineyards was not enough! For the first time in over 5 years, we are beginning to expand our current sites with new varieties and clones to keep up with our growing popularity. We started this year by constructing over an acre of trellising for 1700 Pinot Grigio vines on our Unionville Home site, and plan on continuing our expansion at home and Pheasant Hill Vineyard over the next few years.                                                                                                                                                              And if that wasn't enough for you, this week we are breaking ground on a brand-new Unionville-managed vineyard site in Princeton, New Jersey. This new plot, located on the grounds of Coventry Farm Park across from Princeton Day School, has excellent southern exposure, guaranteeing plenty of sunshine on the new Chardonnay vines being planted and well-drained, silt loam soil with red shale, just like our Unionville Home site. Here's hoping three years from now when these babies produce their first crop, we'll be able to bottle a brand new single vineyard chardonnay for everyone to enjoy. I'm optimistic that that will be the case.



With all this talk of new vines, I guess it's only fair that I speak on some new wines! We have recently released updated vintages of crowd favorites such as our Pinot Grigio, Fields of Fire Blush, and Revolutionary Red, the latter of which is a real revamp of the wine we've been pouring over the past four years. The new Rev Red is a little bigger, a little spicier, but still just as smooth and delicious. We'll be rolling out the 2015 Cool Foxy Lady dessert wine within the next couple weeks, and after that, the world premiere of our Hunterdon Mistral series, a group of three Rhone grape blends showcasing some of the lesser known varieties in our repertoire and some of my favorite varieties to work with. The wine I am most excited about, our Hunterdon Mistral Rose, is a dry Provence-style Rose consisting of Counoise, Syrah, and Mourvedre, It's bright and fruity and perfect for sipping on a sunny day, just in time for Summer.
As you can see, things are really ramping here at the winery, but don't just take it from me, come see for yourself!
 -Conor Quilty, Associate Winemaker
Leave a comment
Comments will be approved before showing up.